The real estate industry has long been thriving. As people need shelter, they invest in real estate properties. But not only do they buy homes, but they also buy properties for business purposes. That's where commercial properties come into the picture.
Simply put, commercial real estate pertains to any property used for income generation or business. It can get sorted into retail, office, industrial, and multi-family spaces. Investing in a commercial property comes with a handful of benefits. These include a high-yielding income source for business, stable cash flow for long-term rentals, the potential for capital appreciation, and a hedge against the stock market.
If you own a commercial real estate property, here are types of business you might want to venture into:
1. Rental Property
Turning your commercial real estate into a lease property can be your best course of action. For one, you can have a contract with a company that will rent your commercial space for their office for a certain period. Also, you can seal a deal with a retail business to turn your property into a brick-and-mortar store. Even the leisure industry can take advantage of your property and lease it for a hotel, restaurant, or spa. Lastly, a health business can utilize your commercial space for a hospital, medical facility, or nursing home.
2. Apartment Building
It's easy to see some entrepreneurs investing in large buildings. Also known as multi-family, these properties usually have several units accommodating several families. If you have invested in an apartment building, consider renting those units to various individuals. You can lock them in for a six-month or a one-year contract. Ultimately, doing so can give you a stable source of income for the long term.
3. Self-Storage Complex
The self-storage industry has become increasingly popular in recent years. Many individuals are looking for space to store their goods and items temporarily. For this reason, investing in a self-storage complex is an excellent investment for a commercial property. Also, it doesn't require regular upkeep. It means you don't have to worry about toilets to repair, interior walls to repaint, or even floors to reinstall. Lastly, this business type for commercial real estate can give you many high returns in time.
4. Flex Space
Did you know that flex space is the most in-demand commercial property these days? No, it isn't a yoga or pilates studio center. Simply put, a flex space refers to a lightly zoned building that includes the office, retail, and industrial space. In short, it fits all the business needs under one roof. As such, you can close a deal with a small and mid-size enterprise (SME) needing to run a store, operate an office, and maintain a warehouse in one place. While it can be affordable for the SME, it can be a lucrative business for you.
5. Co-Working Space
The remote work setup has become increasingly popular in recent years. But it has taken ground during this COVID-19 pandemic. While most businesses have adopted the work-from-home policy, others have resorted to a hybrid work setup. As the pandemic restrictions are getting lighter, remote workers have started going to coworking spaces. They prefer these over coffee shops, as they offer an ideal working environment. If you own commercial real estate, it's best to turn your property into a co-working space.
6. Coffee Shop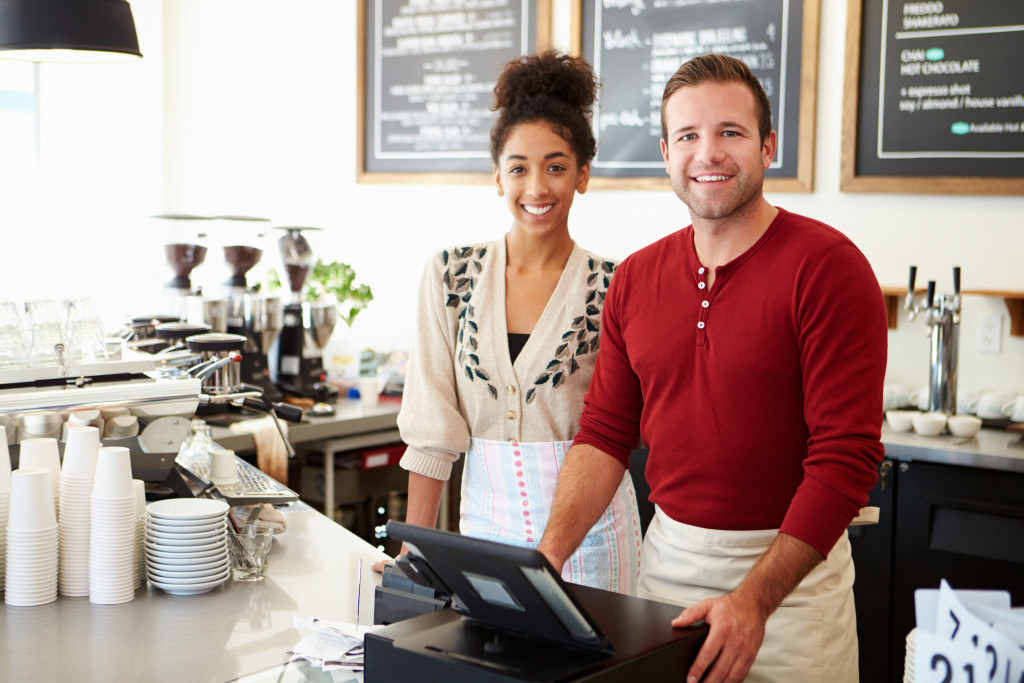 There's no denying the rise of coffee shops around the world. It's now easy to see cafes in many urban cities in different countries. The cravings for coffee have now become a cultural thing, where almost everyone loves to drink a cup of hot java or a cold frappe. If you have vacant commercial space, you might want to turn it into a small business cafe. However, be sure to conduct research and perform due diligence before taking the plunge. Ultimately, a coffee shop can be a lucrative business that can yield high profits for your commercial property.
7. Industrial Building
The last is to turn your commercial real estate into an industrial space. Your commercial property can serve as a warehouse or factory for an industrial company. For instance, you can work with a manufacturing company that can use your property for producing goods or items. Just make sure to ensure legal compliance, follow local codes, and be clear on the terms and conditions of your contract.
At this point, you now know the types of business to invest in for your commercial property. Consider one of the recommendations above, from rental property to co-working space to industrial building. However, factor in your property type, industry knowledge, areas of expertise, line of interest, finances, and other resources. From there, you'll decide what business venture to get into for your commercial real estate. Ultimately, your commercial property will give you many high returns on investment (ROI) in time!