Home improvement projects are often a great way to add value to your property. Still, it's essential to know which projects will give you the most return on your investment. Whether you're looking for a quick fix or significant renovations, numerous projects can give your home a facelift and make it more attractive to buyers. Let's look at some of the best home improvement projects for adding value to a property.
Kitchen Upgrades
A kitchen is often the most crucial room in a home. It can also be one of the most expensive rooms to renovate or upgrade. But, if done correctly, kitchen upgrades can add significant value to your home. Plus, you get the added benefit of having a newly updated and improved space for gathering with family and friends. Here are some of the best ways to upgrade your kitchen:
Upgrade Your Cabinets
If your cabinets are outdated, replacing them is one of the best ways to increase the value of your home. According to Home Advisor, replacing just ten cabinets can cost anywhere from $3,000-$7,000, depending on materials and labor costs. That may sound like a lot, but it will look much better than old-fashioned wood cabinets or those covered in years of paint and grime. Plus, it adds instant value by updating an outdated look that potential buyers may not want to take on themselves.
Install New Countertops
Countertops are another crucial area you should consider if you want to upgrade your kitchen and add value to your home. Laminate countertops are usually cheaper than other materials, such as granite or marble. Still, they don't always hold up over time and can quickly become dated-looking. Investing in new countertops made from more durable materials is a great way to increase the overall quality of your kitchen while adding a lot of value.
Adding Valuable Spaces
Although a house can be complete with the basic necessities like a kitchen, bedrooms, and bathrooms, it can be missing something important that potential buyers are looking for – extra space. Converting an attic or basement into a functional workspace can be an excellent way to add value to your home. Not only does it create a usable space, but it also adds square footage, which can help increase the overall value of a property.
Fortunately, you don't have to spend a fortune to create an additional living space. Look for used office furniture or home décor to help you get the most bang for your buck and complete the room without breaking your budget. With a few simple steps, you can transform any basement or attic into an inviting workspace that will add value to your home!
Bathroom Renovations
Bathroom renovations are another great way to add value to your home. Replacing fixtures, updating tile, and installing new cabinetry will instantly modernize any bathroom while giving potential buyers something they'll be sure to appreciate. If you have the budget, gutting and remodeling an entire bathroom can be one of the most cost-effective ways of improving its overall look and feel while maximizing its return on investment when selling your property.
Outdoor Improvements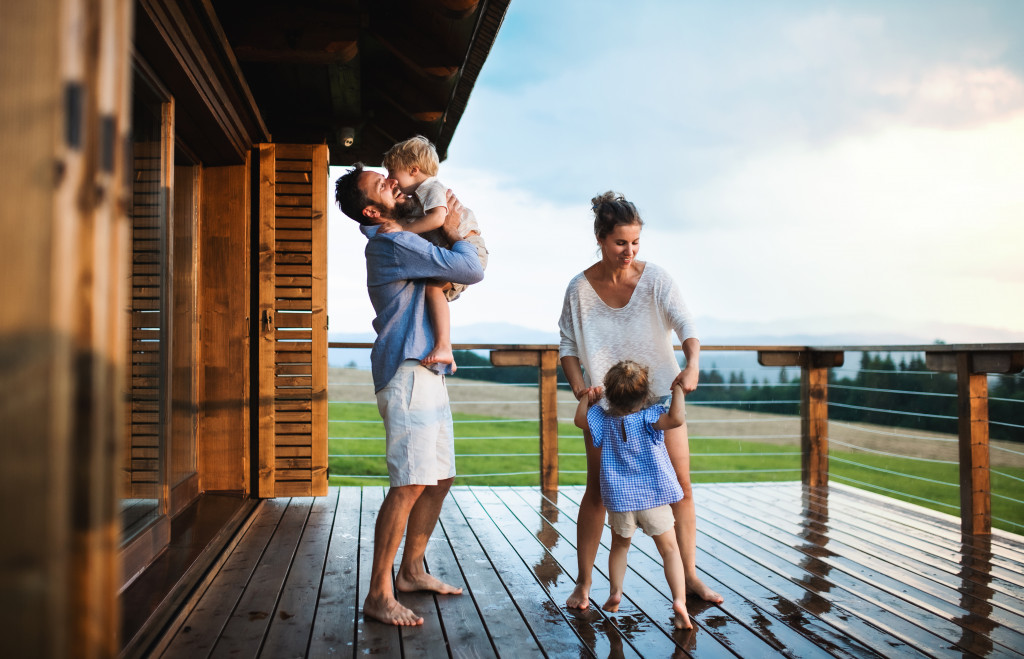 Making outdoor improvements to your home may seem daunting, but the payoff can be huge. Not only will these improvements add value to your home, but they can also significantly improve its curb appeal and make it more enjoyable for you and your family. Here are a few ideas:
Landscaping Projects
Landscaping is one of the most popular ways to spruce up the exterior of your home. A well-designed landscape can not only make your property look more attractive but can also increase its value as well. But landscaping doesn't have to be complicated or expensive; even simple projects such as adding plants or repositioning existing plants and trees can help improve the look of your property without breaking the bank. Additionally, installing a sprinkler or drip irrigation system can help keep your plants healthy and vibrant for years to come.
Fences
Installing a fence around your property is another excellent way to add value to your home. It creates an extra layer of security for you and your family and adds a touch of privacy that many buyers find appealing. Plus, there are many different types of fences available in various materials such as wood, vinyl, aluminum, and wrought iron. Hence, you have plenty of options when it comes time to select one for your property.
Final thoughts
When planning for any home improvement project, make sure you research which ones will give you the most return on investment before diving in head first! Upgrading kitchens, bathrooms, and outdoor spaces — all these improvements should be explicitly tailored towards increasing curb appeal while also ensuring that they last long enough so that you don't have to worry about them down the line! With careful consideration and effective research into what small improvements add the most value, you'll be able to maximize profits when it comes time to sell!